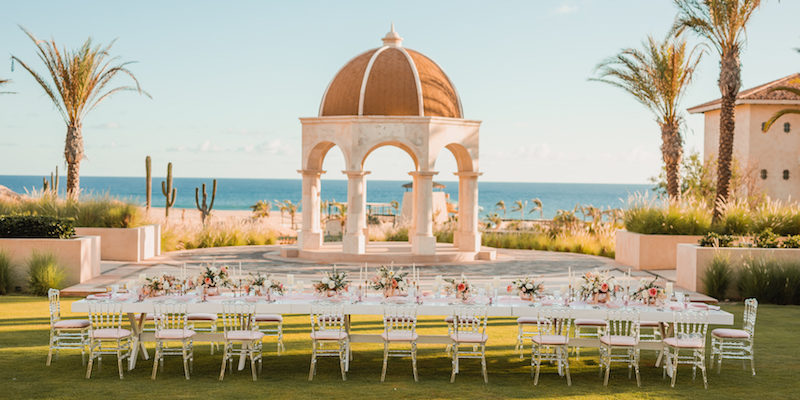 Inspiring and hypnotic, beach weddings have a certain something that invites to dream about saying "Yes, I do" with the rolling waves and ocean breezes filling the atmosphere with love and romance. But behind a memorable wedding there is a mastermind orchestrating every detail to make your special day, an unforgettable celebration. We spoke with Erika Quiroz, Wedding Specialist at Solmar Hotels & Resorts about the magic happening behind the scenes, to craft heart-stopping experiences for both, the couple and their guests. Here, the fantastic interview:
.
Q. Do you have a favorite wedding location?
A. Each hotel that is part or Solmar Hotel & Resorts collection has spectacular locations, but I have recently received many requests for Grand Solmar at Rancho San Lucas. There you can find The Garden, which is a beautiful outdoor space with gardens and a domed gazebo that beautifully acts as an altar to say "Yes, I do". The Lawn is another charming venue. It is located next to the Sunset Pool —the name says it all—; from here you can admire the magical sunsets of Los Cabos over the Mexican Pacific. Both have become part of my favorite, indeed.
.
Q. What is the most extravagant request you've been asked by the bride and groom?
A. (Smiling) I was asked once to bring a horse and a sword to resemble a medieval wedding. Another fantastic anecdote was when I helped the groom to organize a surprise vow renewal ceremony, and we managed to improvise a professional photo shooting in white, so that the bride could dress ad hoc for the occasion.
.
Q. Do you keep fond memories about a particular wedding?
A. As we often say in Mexico: "Cada cabeza es un mundo" (Each mind is a world unto itself); each wedding is unique. However, I will always remember the first Hindu-Jewish wedding I was in charge to organize. It was like a juggling act, as the Hindu ceremony was held in the morning and the Jewish wedding in the afternoon. It was a challenge to change every single part of the decoration to create a completely new atmosphere. A huge satisfaction for me to see the smiles of the couple, who were pleased with the result. We have a beautiful friendship now, and they come to say hello every time they come back to our hotels.
.
Q. Do you have a motto?
A. Of course! "To put my talent at the service of the couple, and make their dream wedding come true." My mind is always set in creating meaningful, memorable moments for both of them, from the planning process to the grand day.
.
Q. What is the advantage of organizing a wedding at Grand Solmar at Rancho San Lucas?
A. Being in the hospitality industry for so long, I can tell you there are many advantages when planning such a special day at Grand Solmar at Rancho San Lucas:
There is not a minimum number of booked rooms required.
No additional fee for external guests.
We offer preferential rates for the bride and groom's guests, when booking a minimum of 10 suites for 2 nights at any Solmar Group resort of your choice.
Location fee applies directly to food and beverage.
We customize our services according to our guests and members budget.
We only hold one wedding per day.
There is no time limit restriction.
Wide range of gastronomic offerings.
Customized packages.
.
Q. Is there a possibility to get a legally accepted wedding certificate?
A. Absolutely. Bride and groom have to arrive 4 to 5 business days prior to the wedding date to hold a blood test. Documents required include ID and birth certificate for both, apostille; divorce certificate if applicable; 4 witnesses; official ID of the witnesses who must be present on the wedding day.
.
Q. Finally, do you have any tips that you would like to share with our readers?
A. Sure I do. I have found that a beach wedding may be a completely new experience for many of the guests, and it is always a great idea to let your guests know about the attire suggested, considering Los Cabos weather. Suggest your invitees to choose light colors and comfortable shoes, and fabrics that may be more comfortable: sheer and loose, such as silk, chiffon or macramé for the ladies, or guayaberas and linen pants for the gentlemen. On the other hand, choosing resistant flowers like jasmines, lilacs, gardenias, magnolias, some types of roses and even orchids, are a good option, before selecting fragile and delicate flowers.

Nonetheless, my main priority is to stick to the bride and groom's wishes, they usually send mood boards for me to serve as inspiration and guideline to design accordingly.
.
Are you ready to tie the knot? Érika will be glad to provide any assistance you may need. Please write to her at erika.quiroz@solmar.com or call her at: +52 (624) 143 0900
.
.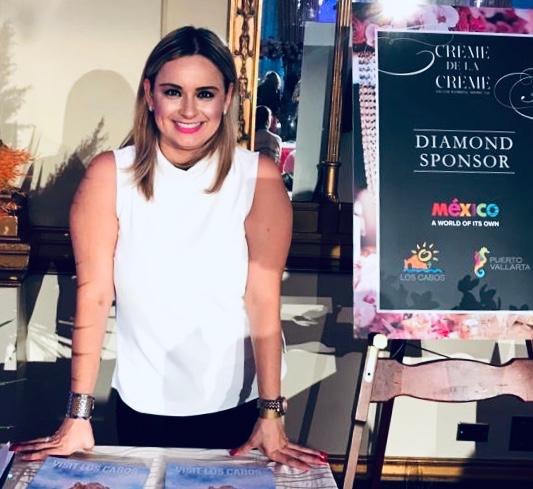 About Erika Quiroz

Graduated from Business Administration in Tourism, Erika has been working for the hospitality industry for 11 years. The last 8 years of her professional life have been dedicated to specialization in different wedding customs and ceremonies from around the world, bearing certifications for Jewish, South of Asia, Egalitarian and Symbolic ceremonies, with a total of 186 weddings organized so far.
.
.
.