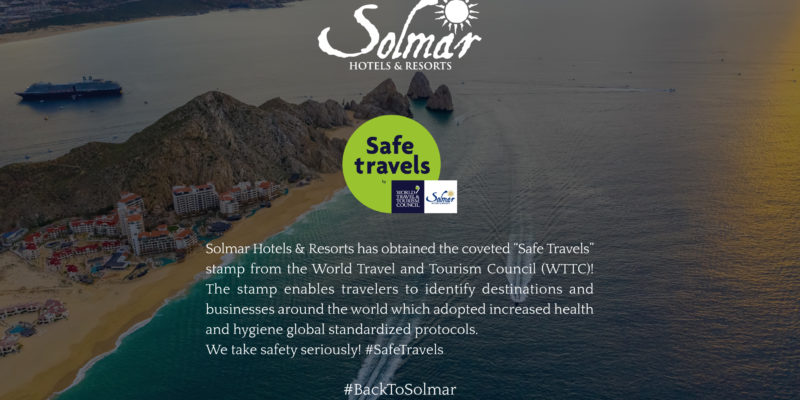 Which resorts are currently open? When are other resorts expected to open?
Starting June 15th, Solmar Hotels & Resorts began a carefully planned phased reopening. As of today, Grand Solmar at Land's End, Playa Grande Resort & Spa and Quinta del Sol are open for members and guests and receiving reservations. Solmar Resort and Grand Solmar at Rancho San Lucas are slated to reopen on September 30th.
Are all spa services available?
Yes, all the spas in our currently open resorts are operating and welcoming members. For our updated regulations and safety protocols at our spas, please visit https://blog.solmar.com/solmar-hotels-resorts-releases-new-enhanced-cleaning-policies/
Are all the restaurants within the resorts open for members? Is Suite Service available?
As of today, all dining venues inside our open properties are open for members to enjoy with some limitations and reduced guest capacity to ensure that social distancing measures are implemented. Guests are also welcome to order room service during their stay. In order to ensure the cleanliness and safety of the guests' room, all in-villa dining orders will be served in to-go containers, waiters and waitresses will not be allowed to enter the guests' suite and menus will be adapted to include pre-made options by the Chef so that guests can easily warm up in the suite, minimizing staff contact with the food.
Are all pools and jacuzzis open for guests?
All pools and jacuzzis in our operating properties, Grand Solmar at Land's End, Playa Grande Resort & Spa and Quinta del Sol are open and fully functional. For our updated pool regulations and safety protocols, please visit https://blog.solmar.com/solmar-hotels-resorts-releases-new-enhanced-cleaning-policies/
Can I access the beach from the resorts?
As always, guests are invited to take a stroll on our breezy beaches as long as they keep a distance of 6 feet between groups to encourage social distancing. Due to the high currents of the Pacific Ocean, none of our beaches are swimmable and guests are prohibited from swimming in them.
Will theme nights still take place?
Absolutely! Playa Grande Resort & Spa continues to host Mexican Night and Beach Party on a regular basis. For detailed information on our entertainment program, please contact your resort's Concierge Desk.
Do guests have to wear face masks at all times?
For the convenience of members, masks are not required in open common areas such as pools and hallways. However, members, residents and guests are required to wear masks in closed common areas such as spa lobbies, restaurants (before being seated and while walking through the restaurant), etc.
What's the protocol if a guest has a fever?
Because the safety and health of our guests and staff is of utmost importance, we have established numerous protocols for all possible scenarios as our resorts continue to open. If a guest experiences a fever, the Manager on Duty at the property will be informed immediately and the guest will be isolated and examined by the doctor onsite. Each property has reserved isolated rooms where possible positive cases will be relocated; medical examinations will also take place here. Once examined, the on-call doctor will diagnose the guest and treat him/her accordingly.
What happens if a guest tests positive for COVID-19 while on the property?
If a positive case of COVID-19 is identified at one of our resorts, the on-call doctor will notify the Ministry of Health to take a sample which will be sent to the respective Health Sector or private laboratories and will inform the guest(s) and accompanying persons that they must remain in isolation until the laboratory rest result is obtained (24 – 48 hours). If the results are positive, the hotel staff will follow the local guidelines set by local medical authorities and the guest(s) will be kept in isolation to prevent the spread of the virus. For more details on guidelines set by local authorities, please visit https://coronavirus.bcs.gob.mx/english/
What is the latest on the operations of restaurants and tourist attractions in the destination?
We are pleased to share that Los Cabos is one of the first destinations to obtain the Safe Travels Seal from the World Travel and Tourism Council (WTTC), demonstrating a stamp of approval on hygiene and sanitary measures from the organization whose guidelines are based on other important international standards from leading institutions such as the World Tourism Organization and the Center for Disease Control and Prevention. For up-to-date information on the destination's policies and measures, visit https://www.visitloscabos.travel/covid-19/
Is the border open?
This is a popular topic and question since the pandemic began. While there have been border closures with the US/Mex and Can/US borters, these have only ever applied to land crossings and restricted to non-essential crossings. Air travel has been operating to and from the destination all year long and flights are arriving from the US and Canada with more routes being re-added as demand resumes. Following strict guidelines, the airports have created a screening process and arriving at SJD is simple and fast!