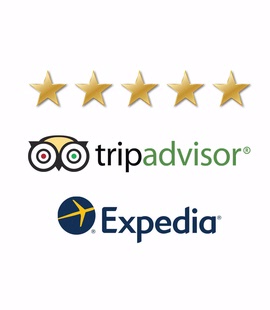 Adding to its already impressive roster of accolades, Grand Solmar Land's End Resort & Spa has reached another milestone having recently received a Five Star rating by Expedia. Set on the southernmost point of the Baja Peninsula with breathtaking views of the Pacific Ocean, Grand Solmar Land's End Resort & Spa has become renowned for the luxe experience it offers to guests, which is complemented by attentive personnel who assure expectations are always exceeded.
Among the requirements for a resort to achieve a Five Star rating by Expedia includes gourmet dining, health clubs with personal trainers, luxurious spas, cultural activities, and children's day camps. Guestroom décor are often elegant noted by the high-quality fabrics used throughout, innovative electronic features, oversized bathrooms featuring marble and custom-built features, among other elements.
Grand Solmar Land's End Resort & Spa certainly meets these requirements and more. It's location alone sets the tone for an exclusive experience with ultimate privacy created by the natural desert landscape of massive surrounding boulders that create a cove-like setting with a stretch of private beach. Among the resorts' favored areas is its signature restaurant, La Roca, considered one of the best restaurants in Mexico offering Baja-style cuisine and alfresco seating to better take in the breathtaking views of the Pacific Ocean. The Sea Spa features seaside cabanas for rejuvenating and healing treatments.  Also available to guests is an expansive fitness center with daily classes and personal trainers on hand. Children are also overjoyed when entering the impressive Kid's Club that resembles a treehouse and offers a variety of interactive games, movies and workshops.
The resort's expansive suites are also unmatched, presenting guests with luxurious spaces and deluxe amenities including full kitchen with marble counters and stainless-steel appliances, in-villa dining and spa services, Murphy beds, private terraces, separate sitting areas, and spacious bathrooms.
Grand Solmar Land's End Resort & Spa was most recently named as one of the best hotels in Mexico by the TripAdvisor Traveler's Choice Awards and the US News & World Report. Now is the ideal time to visit Grand Solmar Land's End Resort & Spa to partake in whale watching, an experience that can even be had from the resort. Rates begin at USD $719. For more information about Grand Solmar Land's End Resort & Spa and to make a reservation, visit www.grandsolmarresort.com.