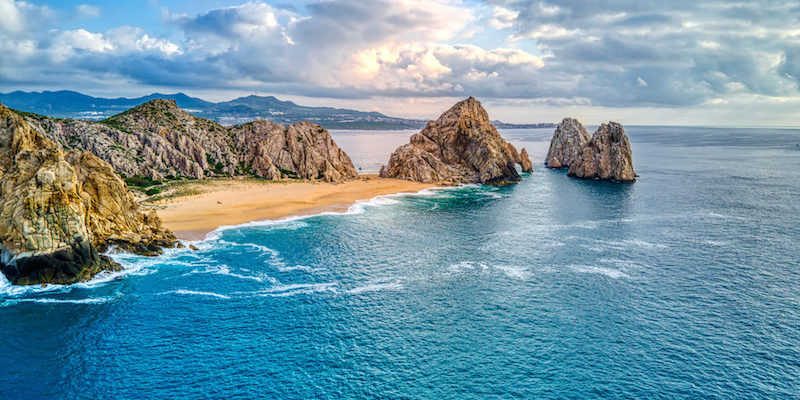 We have gather all the information available, published by official channels for our Members to find accurate answers to their possible questions regarding US CDC and Government of Canada requirements of COVID-19 negative tests before traveling back home.
Please be sure to refer to this post periodically to find updates on new measures taken by both Los Cabos Tourism Board and Solmar Hotels & Resorts.
Hope you find this information useful.
.
.
Measures by Solmar Hotels & Resorts
.
Dear Member,
In response to the official announcement made by the US CDC and Government of Canada regarding all international air travelers arriving at their airports must provide a viral test —NAAT or antigen for the US and PCR for Canada— with negative results—effective January 26th, 2021 and January 7th respectively—, Solmar Hotels & Resorts implemented prompt measures to provide medical support, and easily accessible tests aligned with US and Canada requirements to our on-site members and guests to ensure your return home is safe and stress-free.
Solmar Resorts have secured the services of medical professionals and the certified testing facilities provided through Cabo Medical Center, certified to undertake the required COVID-19 tests. Through this arrangement, members will receive access to a preferential rate of $24 USD per person (tax included) for Antigen tests —performed on-site at any Solmar resort—, and a preferential rate for PCR tests —performed at Cabo Medical Center facilities—. Be sure to schedule your test with the Concierge upon arrival.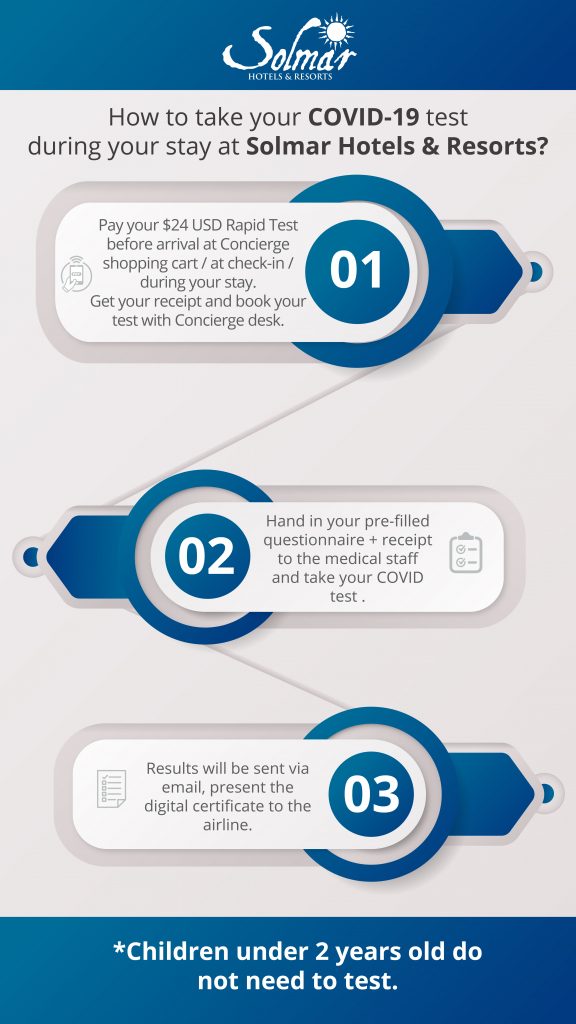 ---
---
Most Recent FAQ's
.
Effective June 10th, 2021 | What are the new regulations by the Government of Canada?
According to latest announcement by the US CDC, CIVID-19 negative test results will not longer be necessary to be allowed access to your flight and enter the US. Please find all the related information on the official site, here.
---
> Important note:
Please consider that Canada Government still requires travelers entering the country to present a negative antigen test in case they are not fully vaccinated. Please find latest information here.
---
Effective February 28th, 2021 | What are the new regulations by the Government of Canada?
According to the Government of Canada fully vaccinated travelers who have been in any country other than Canada and the United States in the 14 days prior to entry to Canada will no longer be required to take a PCR test, travelers will be able to take a rapid antigen test a maximum of 24 hours prior to their scheduled return flight.
Children under 12 who are not fully vaccinated but traveling with fully vaccinated adults will no longer face quarantine or testing restrictions upon return to Canada.
Airports will return to random testing upon arrival rather than testing all travelers upon arrival. Fully vaccinated travelers will no longer be required to quarantine while they are waiting for the results if they are selected for random testing upon their return to Canada.
The travel warning level will drop from Level 3 (avoid non-essential travel) to Level 2 (practice special precautions).
Please find full information at the official website here.
---
Effective November 8th, 2021 | What happens if I have recently recovered from COVID-19?
If you have recovered from COVID-19 in the last three months, you will be required to show proof of a recent positive viral test on a sample taken no more than 90 days before the flight's departure and a letter from a licensed healthcare provider or a public health official stating that you were cleared to travel. You can find more information in this link.
---
Effective December 6th, 2021 | What if I have had a COVID-19 vaccine? Do I still need a negative COVID-19 test or documentation of recovery from COVID-19?
Yes, all air passengers traveling to the US, regardless of vaccination status, are required to present a negative COVID-19 test result or documentation of recovery.
According to the latest update by US CDC, before boarding a flight to the United States, you are required to show the following:
All passengers either fully vaccinated or not: Must provide proof of vaccination and a negative COVID-19 test result taken no more than 1 day (24 hours) before travel.
Children under 2 years old do not need to test.
---
Who is required to show proof of a negative test prior to departure from Los Cabos?
Travelers returning to the United States are required to show proof of a negative test prior to their departure from Los Cabos.
---
Do children need to get tested as well?
Yes. According to the CDC, anyone above the age of 2 must get tested before departure. In the case of returning to Canada, travelers 5 years of age or older must get tested according to the Canadian Government.
---
What happens if my country of residence (such as Canada) requires a PCR test before boarding my flight?
Through an agreement that has been formalized with a Cabo Medical Center —within a walking distance—, to have PCR tests available for our guests and members. Please note that PCR test cannot be conducted on-site. Stay tuned for further details regarding pricing.
---
Are there enough tests available in Los Cabos?
Yes. Los Cabos' tourism authorities are working in partnership with the hotels, local, and state authorities to ensure testing is widely available and offered to all travelers visiting the destination. Additionally, all hotels and vacation ownership clubs in the destination are equipped with the Antigen test and medical personnel to provide the test along with the medical certificate required by the CDC, as well as PCR tests required by Government of Canada. Hotels, hospitals and labs in the destination offer the medical certificates in the form needed by these authorities.
---
Do I need to present a COVID negative test before traveling to Los Cabos?
Regulations in Mexico do not require visitors to show proof of negative COVID test results. Still, strict measures are being followed within the destination, as well as at Solmar Resorts to take care of our friend's and members' health.
---
What kind of documentation of my test result do I need to present?
US CDC and The Government of Canada requires that air passengers arriving in the US or Canada have a paper or electronic copy of their test result for review by the airline before you board and for potential review by public health officials after you arrive in the US.
---
Will I be able to fly if, after the quarantine period, I still test positive but I have no more symptoms?
After a period of 10-14 days of quarantine, a Doctor can supply a note to allow you to travel in case no symptoms are presented.
---
Will the Solmar resorts have special food services available in-house?
Absolutely. Our main priority is your safety and health, and we are working hand in hand with the in-house Doctor in order to design a special menu based on the nutritional requirements while undergoing COVID-19. Trained staff will be in charge of assisting the in-Villa and in-Suite dining service.
---
Are there any designated areas for members to undergo the quarantine?
According to the Los Cabos Tourism Board, all hotels and resorts must provide a specific area in the event of a need to quarantine. At Solmar Hotels & Resorts we have assigned special areas for this matter.
---
---
Los Cabos Tourism Board Announcement
.
In recent days, the Los Cabos Tourism Board announced the efforts and measures directed to ensure all international travelers visiting the destination will have access to a Covid-19 test before their scheduled international departure.
Please find the highlights of this press release below these lines or visit Los Cabos website to find more information related to COVID-19 tests, here.
Los Cabos' COVID-19 testing program will start next week (January 25th) in partnership with government health authorities, Los Cabos International Airport, and tourism partners, ensuring a seamless implementation of the measure. Travelers visiting Los Cabos can expect the following:
Onsite Testing – Tourists visiting Los Cabos will be able to get an Antigen test at their lodging facility including hotels, villas, and timeshares. The process is safe, fast, and simple given that all facilities are equipped to administer the Antigen test, which is acceptable by the CDC.
Medical Certification – Testing will be performed by the lodging facilities' medical team that have been trained and authorized by the Mexican Health Secretary to administer the test. Once the negative result is confirmed, the doctors will issue a medical certificate on behalf of the health authorities of Baja California Sur for travelers to present before boarding their return flight.
Designated COVID-19 Areas – For positive cases, lodging facilities are prepared to implement a strict quarantine protocol and have designated specific COVID-19 areas for travelers needing to isolate in Los Cabos along with their families at a preferred rate.
Medical Assistance – Positive cases will be overseen by the onsite medical team. Additionally, hotels, villas, and timeshares across the destination have established agreements with hospitals and private medical practices to be able to support travelers needing more advanced treatment.
PCR testing – Los Cabos also offers PCR testing at select hospitals and lab facilities for travelers who require this test, such as those departing to Canada. Additionally, the Los Cabos International Airport will have a testing station to provide the Antigen test during emergency situations.
The rollout of Los Cabos' testing program is supported by the Health Authorities of Baja California Sur and the Los Cabos Hotel Association, and will continue to be under ongoing monitoring from local tourism authorities to guarantee its safe and fast implementation. For additional information, please visit https://www.visitloscabos.travel/covid-test/
We know that you may have many questions, so please feel free to share your comments below. We are closely monitoring all your questions, and working on an update to answer all of them with the accurate information so you can make a quality choice regarding your vacation planning. Please be sure to refer to this post periodically to stay up-to-date.