Dear Member,
In response to the official announcement made by the CDC regarding all international air travelers arriving at US airports must provide a viral test (NAAT or antigen) with negative results—effective January 26th, 2021—, Solmar Hotels & Resorts have implemented prompt measures to provide medical support, and easily accessible tests aligned with CDC requirements to our on-site members and guests to ensure your return home is safe and stress-free.
Solmar Resorts have secured the services of medical professionals and the certified testing facilities provided through Cabo Medical Center, certified to undertake the required COVID-19 tests. Through this arrangement, members will receive access to a preferential rate of $23 USD per person (tax included). All tests are performed on-site at any Solmar resort. Be sure to schedule your test with the Concierge upon arrival.
Please find below a recap of the answers to most frequent questions.
What is the kind of test I have to take and what is the cost?
The option required for reentry to the US is the NAAT or Antigen Test. This test has a low cost of $23 USD per person and can be taken on site at any Solmar resort. Please be sure to book your test with your Concierge in advance.
When do I have to undertake the test?
We suggest booking your test upon arrival. Please note that tests must be done within 72 hours and no less than 3 hours prior to your departure flight. To ensure an easy process, our Concierge department will be glad to provide assistance booking the visit of a Cabo Medical Center medical staff member to undertake the test and receive a certified document via email to present to the airline.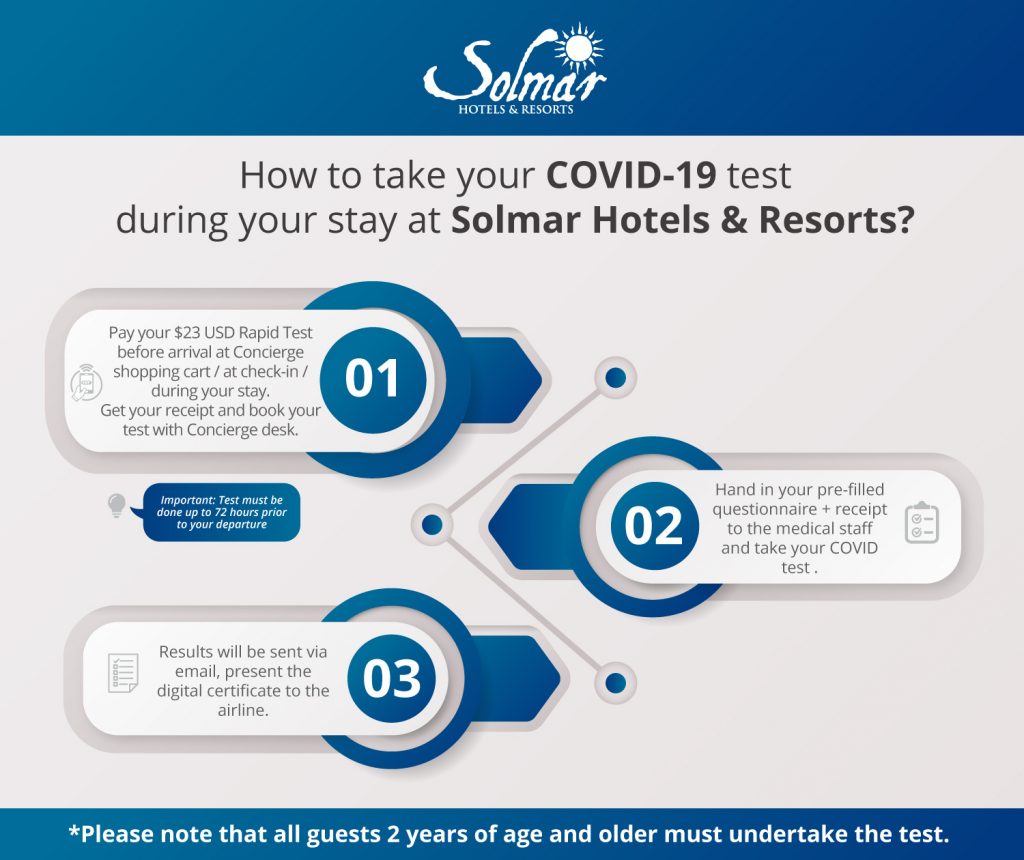 What happens if my results for COVID-19 test are positive?
Los Cabos and Solmar Hotels & Resorts have established strict measures to ensure your visit to the destination is safe at all times. In case you result COVID-19 positive, a PCR test must be undertaken at a nearby clinic, at preferential rates.
If your stay needs to be extended until you are cleared for travel to the US, we have created some options to assist members and guests. In the event of a need to quarantine, members can extend their stay and add an additional week for the cost of a Maintenance Fee. This additional week has no effect on any of your membership weeks. Solmar also has designated rooms available at a hotel within the Solmar collection, should guests need a lower cost option for their extended, safe stay.
We know that you may have many questions, so please feel free to share your comments below. We are closely monitoring all your questions, and working on an update to answer all of them with the accurate information so you can make a quality choice regarding your vacation planning.
Thank you for your attention.
Sincerely,
Solmar Hotels & Resorts.