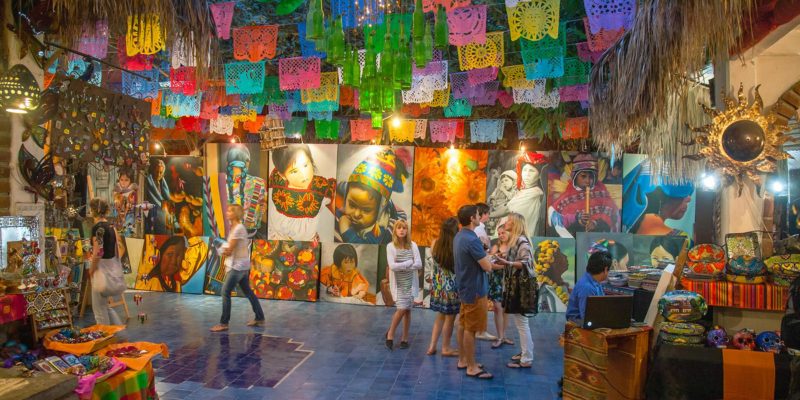 Los Cabos has grown to be an artistic hub where musicians, sculptors, painters, plastic artists and literates gather to offer an experience to remember, exalting the eclectic, authentic and innovative, so it is easy to see why so many artists are inspired to call it home.
Although Los Cabos is considered one of the Top Beach destinations in the world, there is a thriving arts and culture scene happening here, and one of the most outstanding events is The Art Walk.
What can you expect?
Spend an evening as you ramble the picturesque, cobblestone streets of San Jose del Cabo, and admire local art. The Art Walk becomes a fascinating journey through the Art District's galleries and the opportunity to meet local artists and gallery owners —while delighting your palate on wine and cheese degustation every here and there.
The prelude of a lovely evening, as you explore the town's fine bars and restaurants tasting craft beers and local cuisine infused with international hues.
Many galleries are to be explored, and we share some of the most remarkable places; just an amuse-bouche to offer a glimpse to the artistic world waiting for you.
.
.
Sergio Bustamante Gallery
This Sinaloan painter, sculptor and designer has an international acknowledged career, which has allowed him to open galleries in different countries such as the United States, Russia and Japan. Find his fascinating imaginary representing an allegory of characters showcasing friendly faces resembling the beauty found in nature and the animal kingdom, while adopting fantastic and playful forms.
? Lázaro Cárdenas 17, El Medano Ejidal, Marina, Cabo San Lucas | Phone: (624) 144-4895 | https://www.coleccionsergiobustamante.com.mx/
.
Ivan Guaderrama Art Gallery
Ivan has dedicated his life into the passionate quest to express his feeling far beyond the known art, that is how the inspiration to integrate different technologies to his art born; creating masterpieces that communicate an extrasensory deep message through sounds when are touched, three-dimensional sound images that come to life when "Ivan Guaderrama Art Gallery App" —that himself created is use.
? Álvaro Obregón No. 20 Col. Centro, San Jose del Cabo | Phone: (624) 122-4865 | https://www.ivanguaderrama.com/
.
Old Town Gallery
The Old Town Gallery offers a unique experience for those who enjoy being in the company of fine art. The artists are regularly in attendance to discuss their work and the inspiration behind the piece, heightening the gallery experience. You may even find a hidden treasure, and in addition to the exquisite Mexican inspired originals in the main gallery, there are one of a kind hand enhanced fine art giclees in the working studio artists' loft. Featured artists include Jonn Einerssen, Brent Heighton and Marilyn Hurst.
? Álvaro Obregón #1505, Downtown, San Jose del Cabo | Phone: (624) 688-9856 | https://theoldtowngallery.com/
.
Patricia Mendoza Art Gallery
This contemporary art gallery is located at the center of San José del Cabo's Art District. It offers a door for Mexican artists with a successful path behind —and ahead— to exhibit their work. Young and senior artists gather in this one place to show their common ideal of true art in many hues and styles that make a visit to this museum-quality gallery so enjoyable.
? Álvaro Obregón & Plaza Mijares S/N Col. Centro. San José del Cabo | Phone: 624·158·6497 | http://www.patriciamendozagallery.com/
.
You have an appointment every Thursday evening between November and June to savor local and international artists' work while enjoying the authentic spirit of Baja.
.
..