The 4th of July is always a big celebration for us at Solmar Hotels & Resorts, and this 2021 Independence Day, Grand Solmar at Rancho San Lucas will be filled with a full program of activities, exquisite cuisine, and loads of fun for our American guests to celebrate this day at its best!
Program
6:00-7:00 p.m. Cocktail party with a warm welcome from our Activities Staff.
7:00-8:00 p.m. Festive music will be in charge of a music band.
8:00-9:00 p.m. The Activities Staff will set the tone for a spectacular day of celebration with games, trivia, and prizes.
9:00 p.m. Fireworks – Please note that due to Municipality orders, this activity is cancelled.
9:00-10:00 p.m. Live Music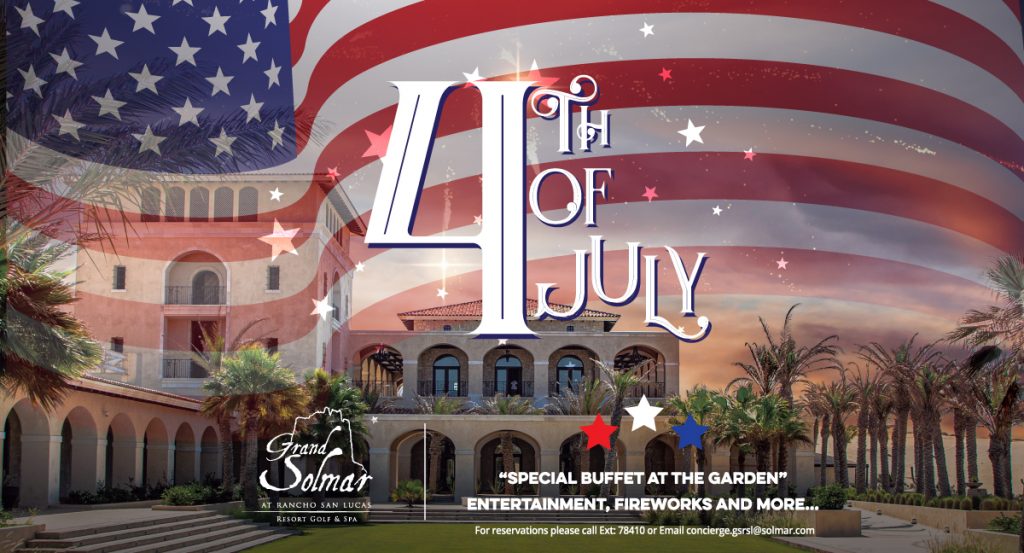 Gastronomy
The Garden at Grand Solmar at Rancho San Lucas will be the host of minute-made grill delicacies coming directly from our chef's parrilla and a menu crafted to celebrate this day.
What's on the menu?
SALAD BAR
American style potato salad
Local tomato salad
Caesar salad
Cabbage & carrot salad
DRESSINGS
Italian vinaigrette
Ranch dressing
Tartar dressing
ENTRÉES
Beef burger
Hot dog
BBQ ribs
Chicken & beef skewers
BBQ chicken
Buffalo wings
SIDE ORDERS
Mashed potatoes
Grilled vegetables
Baked potato
Roasted sweet potato
Roasted corn with chipotle butter
DESSERTS
Coconut cake
Corn Cake
Join the celebration! Please be sure to ask for further details and reservations with your concierge at: concierge.gsrsl@solmar.com | +52 624-1430900 | Ext. 78450
Happy Independence Day!