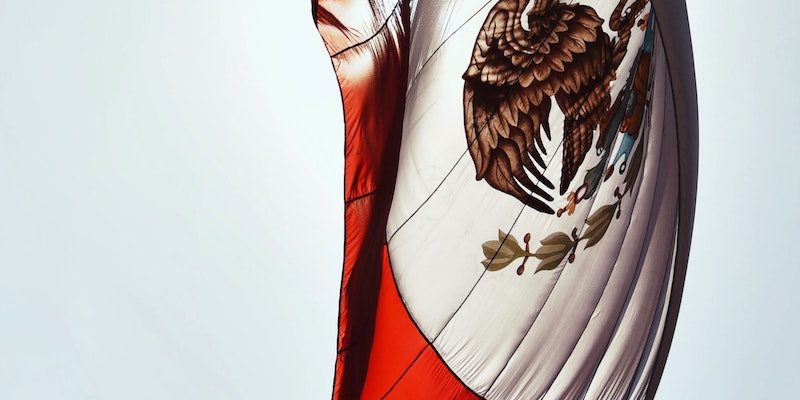 The month of the year when everything's dressed in green, white, and red is here to commemorate Mexico's Independence on September 16th. It's the occasion to celebrate —with great fanfare— the traditions that have built this vibrant country and pay homage to those who gave us a free country to live.
The festive spirit is always present at Solmar Hotels & Resorts, but on this date, a big celebration will be held in our properties. Please take a look and get inspired! Oh, and to bring some inspiration home, we share a couple of fantastic Mexican cocktail recipes by Grand Solmar Land's End mixologists. ¡Viva México!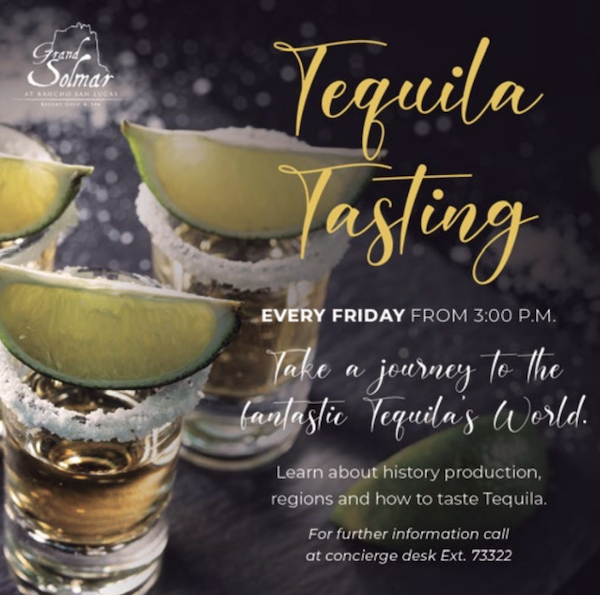 Tequila tastings
Learn more about this iconic Mexican distilled spirit. Salud!
Fridays | From 3:00 p.m.
Grand Solmar Land's End
---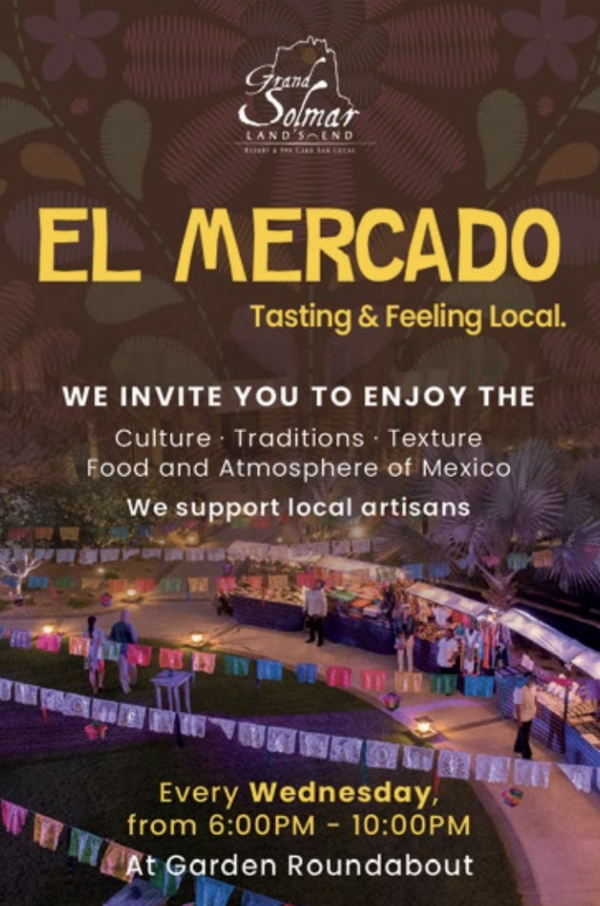 El Mercado
Enjoy the culture, traditions, and food of Mexico brought directly to your home away from home.
Wednesdays | 6:00 p.m. to 10:00 p.m.
Grand Solmar Land's End
---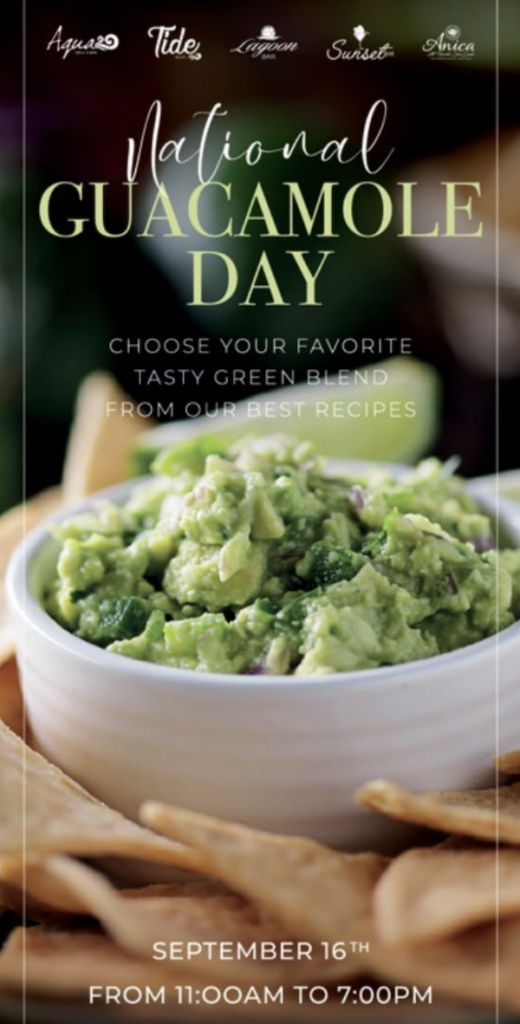 National Guacamole Day
Choose your favorite tasty Green gold blend and celebrate guacamole!
September 16th | 11:00 a.m. to 7:00 p.m.
Grand Solmar at Rancho San Lucas
All restaurants
---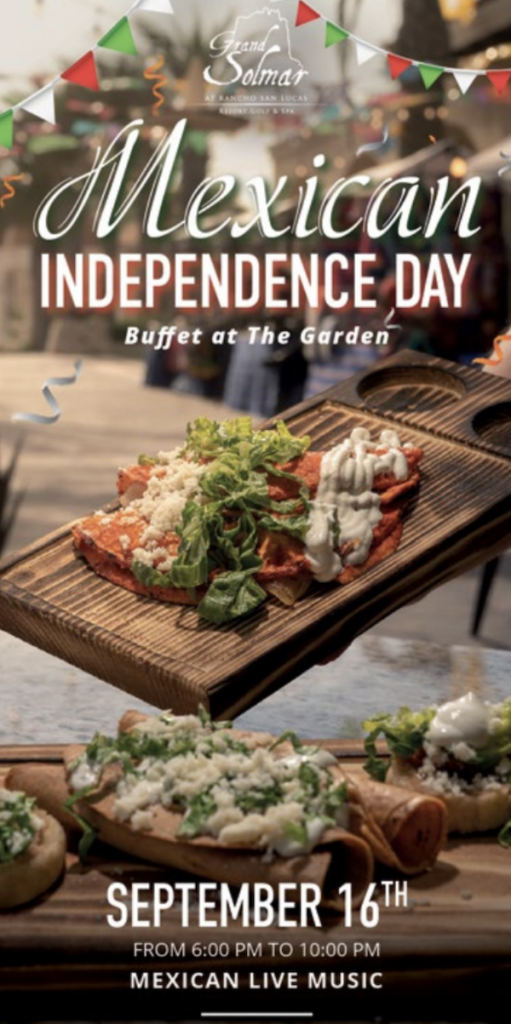 Mexican Independence Day – Buffet at The Garden
Join us for a celebration filled with the most traditional Mexican dishes and live marimba!
September 16th | 6:00 p.m. to 10:00 p.m.
Grand Solmar at Rancho San Lucas
The Garden
---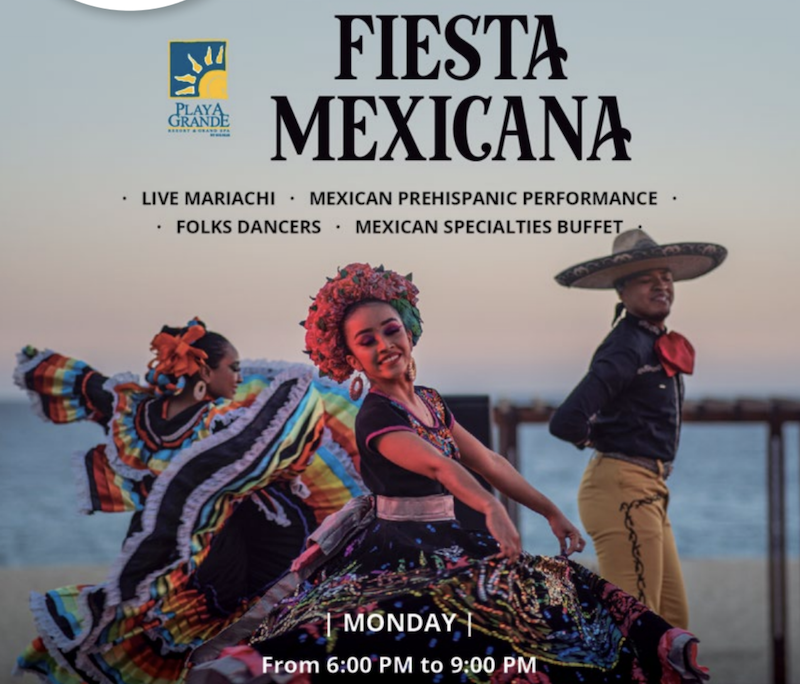 Fiesta Mexicana
Our traditional fiesta becomes even more special during September.
Mondays | 6:00 p.m. to 9:00 p.m.
Playa Grande Resort & Grand Spa
---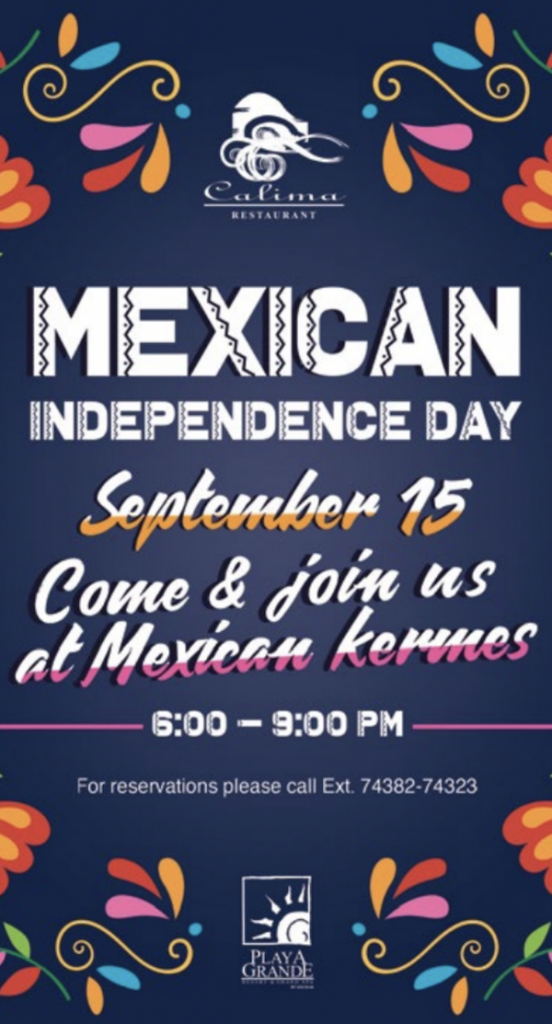 Independence Day – Mexican Kermesse
An authentic kermesse to step into the traditional flavors of Mexico.
September 15th | 6:00 p.m. to 9:00 p.m.
Playa Grande Resort & Grand Spa
Calima Restaurant
---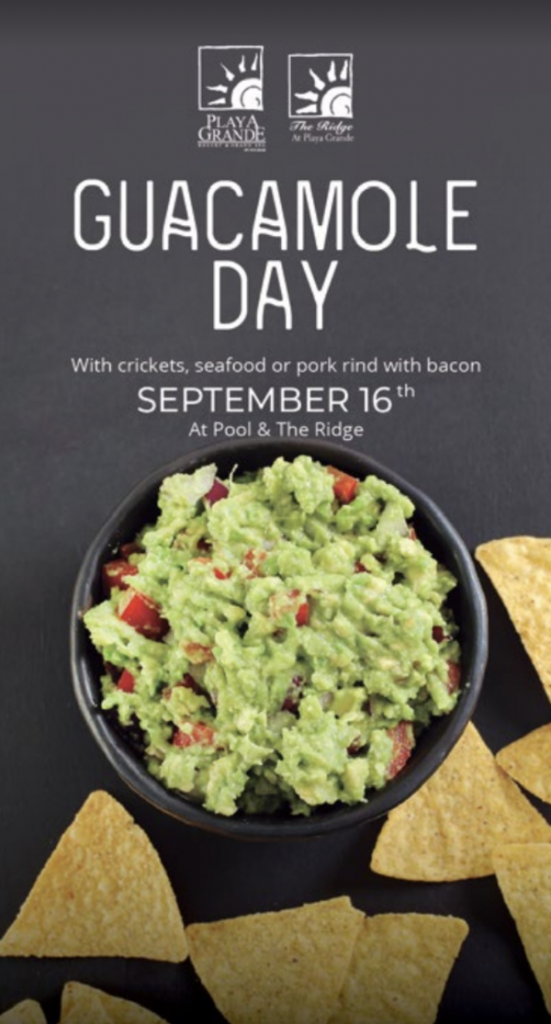 Guacamole Day
Garnish your guacamole with crickets, seafood, or pork rind and bacon!
September 16th
Playa Grande Resort & Grand Spa
Pool
---
Hope you enjoy these exquisite cocktails, courtesy of Grand Solmar Land's End mixologists!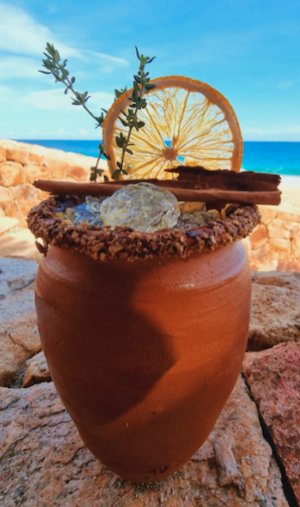 Quetzal
Smooth, silky textured, and nuanced, Nixta is the purest form of ancestral corn distillation with roasted corn aromas, sweet and creamy textures of atole, and a finish of roasted nuts and dried fruit. Serve neat, on the rocks, or as a distinctive cocktail enhancer.
Ingredients
2 oz Nixta
1 1/2 oz Whisky Bourbon
1/2 oz Lemon (yellow)
1/2 oz Agave syrup
1/2 oz Mezcal
10 gr Roasted corn
2 slices Ginger
Garnitures
Dried grapefruit
Lemon zest
Cinnamon stick
Thyme
Preparation
Crush the ginger slices and place them in a shaker with ice.
Add the roasted corn at the same time as the cordials and shake well until chilled.
Strain and serve in a clay cantarito glass.
Decorate with the garnitures.
---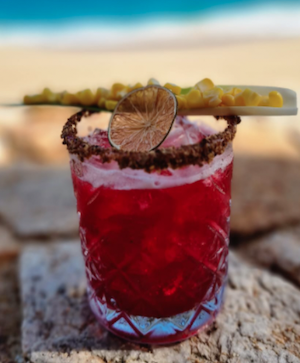 Jilo
Jilo, from Jilotepec, is a charming town in Estado de Mexico in central Mexico, meaning "The place of sweet corn" in Otomí.
Ingredients
2 oz Nixta
1 ½ oz Tequila
1 oz Hibiscus flower bitters
1 oz Lemon juice
10 ml Angostura bitters
Garnitures
Sweet corn
Dehydrated lemon
Worm salt to rim
Preparation
In a shaker with ice, add all the ingredients except the Angostura bitters.
Shake until cold, serve in an old fashion glass rimmed with worm salt, and finish with a dash of Angostura.
Mix one last time using a cocktail spoon.
Decorate with a slice of lemon and corn.
---
Happy Mexican Independence Day!