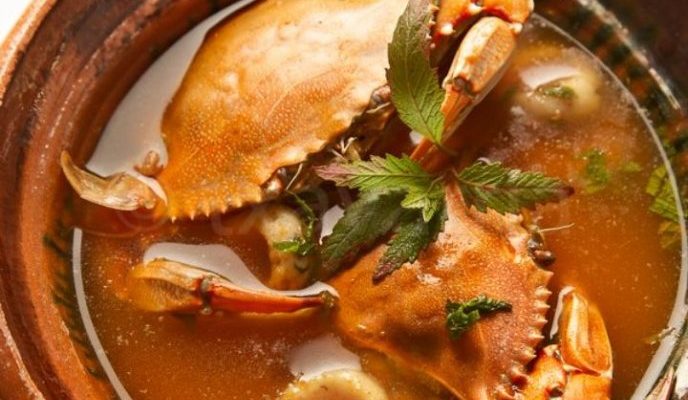 As we delve into Mexican gastronomy, we find that, in order to better understand the culinary traditions of this country, it is important to visit more than one state. Every gastronomic region has a wide cultural influence that contributes to Mexico's intangible legacy to humanity.
In this new chapter, we will immerse ourselves in the Central Coast culinary arts from both the Pacific coast and the Gulf of Mexico coast.
---
Highlights
The flora that characterizes this region: coffee, framboyan or royal poinciana, pepper leaf, mangrove, mango, papaya, pineapple, plantain, tamarind, tule, and zacatonal. As per the fauna found in the states that comprise this region, you can find skipjack, crab, grouper, mojarra, oyster, snapper, sawfish, and thrush.
---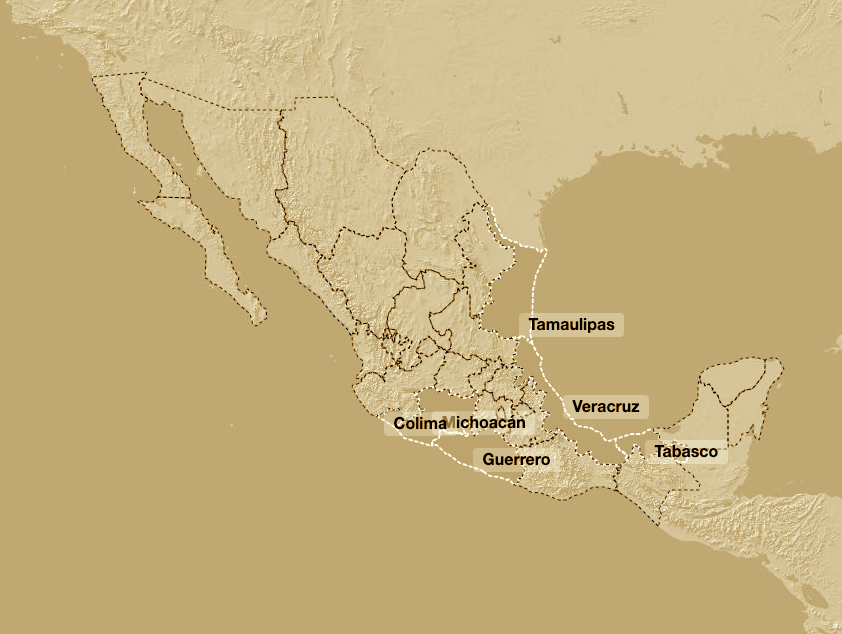 Colima
Nearly 15% of the economically active population works in the primary sector—agriculture, forestry and fishing, and it is the first lemon producer in Mexico and stands out among the main producers of tuna, skipjack and bonito.
Gastronomy in this state has a wide influence by indigenous Mexicans, as well as Spanish, African and Asian cuisine, due to merchants who disembarked from the Manila galleons on the coast before arriving at the port of Acapulco. 
Among its most representative traditional stews, some of which it shares with Jalisco and Michoacán, are Birria, Pickled onions, Chilayo, Chilaxtle, Cuachala, Pork or iguana beans, Menudo, Nopal pad mixiotes, Morisqueta, Pipián, Shrimp pozole, and Moorish torta.
During the Cuaresma or Lenten, the production of nopal is very important, being the base for many stews consumed during this season: Nopales en penca a la Jurica, Nopales navegantes, Nopales rancheros, Nopales rellenos, Xoletes, and nopales al balcón.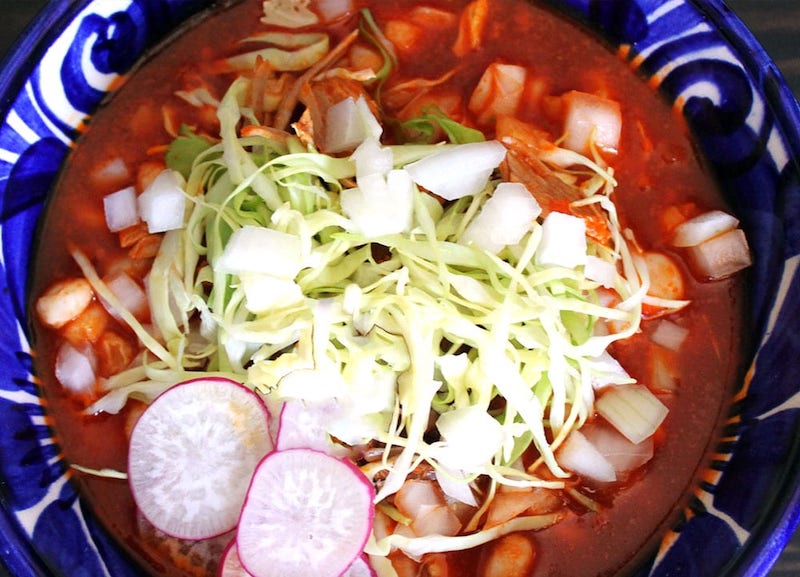 Michoacan
Vast in natural diversity, Michoacan has a wide variety of climates, vegetation, fauna, and soil qualities that influence the many economic activities found in the region, such as agricultural, industrial, commercial, tourist, and fishing.
The state occupies the first places in national production of Hass avocado, melon, guava, strawberry, lemon, onion, and tomato.
Michoacan popular traditions and customs are the results of cultural exchange by the Purépecha, Nahua, Mazahua and mestizo cultures, with African and Asian contributions. 
Pork meat or Carnitas are considered the best in Mexico, while mole sauces are another highlight of this state, as well as the variety of broths like Birria, Acúmara, Dried shrimp, Michi, Chegua, Mushroom soup, Uchepos.
Pozoles are part of the main dishes too, with Corn, Red and Wheat pozole, as well as the Pozolillo. Corundas and uchepos are very famous tamales, but they are not the only ones: among the sweet and salty tamales in the state we find Ash corundas, Sour, Chard, Almond and Casserole, Squash flower tamales.
As in every region in Mexico, sauces play an important role in Michoacan's gastronomy, using all kinds of chili peppers and other ingredients —chimpa, dried chile de árbol sauce, pasilla chili sauce and green sauce.
The ice cream deserves a special mention with a wide variety of flavors such as soursop, melon, sapote, and practically any other fruit.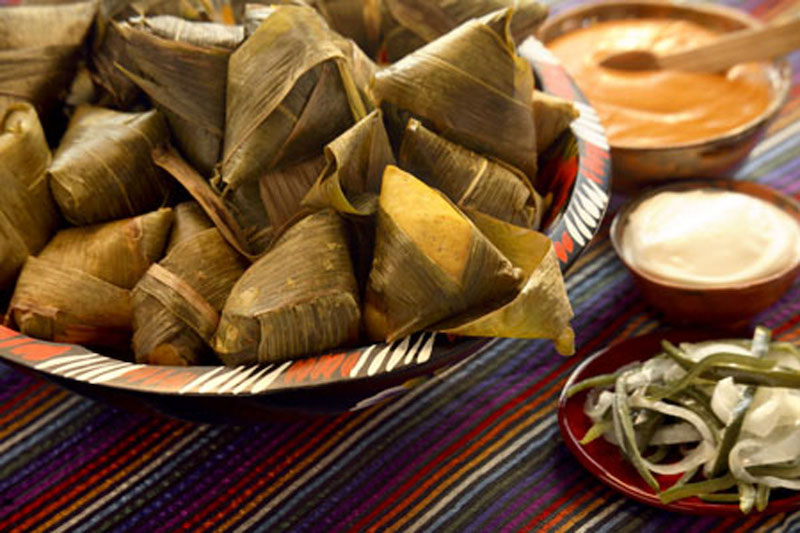 Guerrero
Even when the main economic activity derives from services and tourism, agriculture very important in Guerrero. 
The state is the leading producer of hibiscus flowers and mango, but multiple varieties of corn, coconut, coffee, watermelon, sesame, rice, peanuts, beans, grain sorghum, peach, and avocado are also successfully grown. 
Mixtec, Nahua, Amuzgo, and Tlapaneco indigenous groups live in the area and share the land with a significant number of mestizos and groups of African descent. Most of the indigenous Nahuas, Mixtecs and Tlapanecos live in the mountain region, whose diet is based on corn, beans, squash, tomato, chili peppers, herbs, regional quelites, and some fruits such as melon, banana, pineapple, and tamarind. 
The Amuzgos and Afromestizos are found on the Costa Chica, where fruit crops such as plantains, papaya, tamarind, coconut, plum, lemon, sapodilla, mango, lime, orange, sugar cane, and coffee abound.
Some typical dishes include Aporreado, Apozole, Chilate, Chilatequile, Canned pumpkin, Morisqueta, a vast array of atoles, moles, green pozole, iguana-based stews, and tamales stuffed with green beans, beans, and nejos. 
On the other hand, Guerrero is known for its beautiful beaches, like Ixtapa Zihuatanejo and Acapulco, where fish and shellfish are the main ingredients.
Dishes include Fish and shrimp ceviches, Fish strips, and Fish 'a la talla'. Some unique ingredients are used in the entity, such as curd, camahua corn, epatlaxtli, comba beans (pataxete), yucca flower (flor de izote) and some insects such as wasps, grasshoppers, chicatana ants, stick worms and jumiles, stews with mourning doves, beaf tongue, sausage, dried fish, pusumiche and Creole cheese. 
Unique appetizers and snacks are among local favorites, like cazuelitas, chacualole, chalupitas, capon peppers, pescadillas, picadas, vegetable quesadillas, tlaxcales, tlaxcalecamahuas, and the exquisite gorditas toqueras.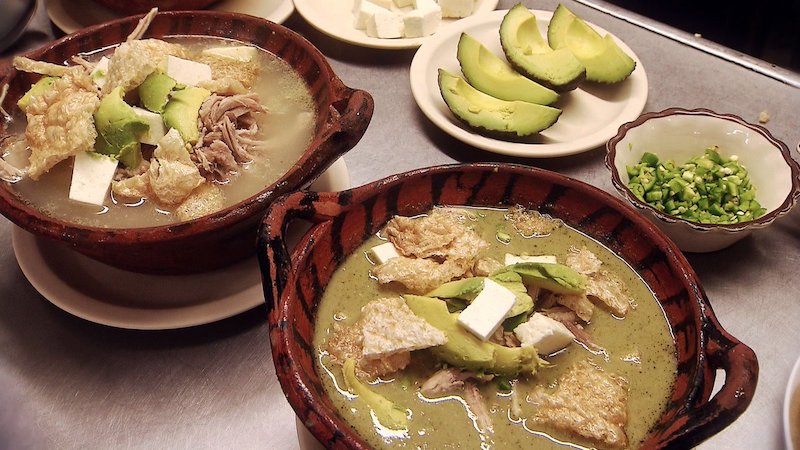 Veracruz
The first town established by the Spanish conquerors was located in the territory currently occupied by Veracruz. The port then became a link and exchange point between Spain and America, which is why goods such as broad beans, alverjón, wheat, rice, and domestic animals arrived at this port.
In Veracruz, indigenous people, Spaniards and Africans converged, resulting in a rich and vast gastronomy.
The agricultural activity is among the most important in the country, with the production of chayote, pineapple, sugar cane, rice, papaya, orange, jicama, lemon, coffee, and banana, as well as in the capture of lebrancha, oyster, clam, sierra, horse mackerel, crab and sea bass, and is also an important producer of poultry, sheep, and beef. 
The current territory was populated by Huastec, Totonanaca and Olmec groups before the Conquest; Currently, it is inhabited by Nahua, Popoluca, Tepehua, and Totonac groups, strongly influenced by the original cultures. North of Veracruz is home to Totonac, Nahua and Tepehua cultures. Plants that are used in the preparation of food are grown both in the patios of the houses and on the land intended for cultivation, or some are collected, such as peanuts, sweet potatoes, chives or xonacate, chayote, epazote, pumpkin, cocuite, izote and nettle flowers, mint, nopal, pemuche, pine nut, purslane and yucca, as well as some mushrooms like cuitlacoche, chaca mushroom and oak mushroom.
The most representative dishes include Achocote, Pork marinade, Smoked armadillo and badger, Bocoles, Pine nut enchiladas, Wrapped acuyo, Marinated beans, Garnachas, Plantain gorditas from Castilla, Huatape of acamayas and cosoles, Raccoon in marinade, Mole ranchero with turkey, Molotes, Chicken in adobo, Pumpkin soup with cosoles and the Tlapanil.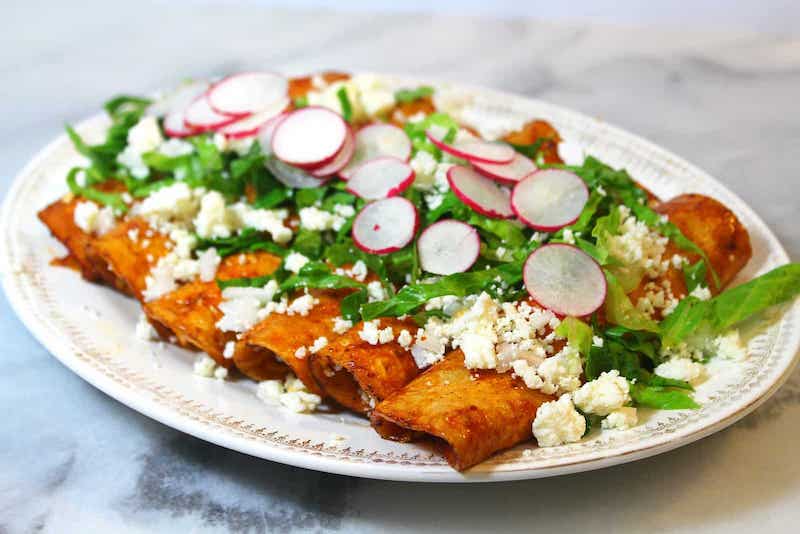 Tamaulipas
In the ports of Tampico and Altamira, Tamaulipas people use to catch mullet, catfish, trout, shrimp, dogfish, and crab, and in the agricultural region of Mante the most important crops are aloe vera, soybeans, sorghum, onion, orange, grapefruit, and tangerine.
The products of the sea and the consumption of meat are the main sources of food in Tamaulipas. Some examples of their gastronomy inspired by seafood are crab ceviche, chilpachole soup, cocktails, quesadillas, and shredded crab salpicón; Stuffed crabs are also very popular.
Shrimps are stewed with garlic sauce, prepared in meatballs, ceviche, cocktails, marinade, pipián and in quesadillas. The oysters are also prepared in ceviche and pickled and the octopus is prepared en su tinta or "in its ink". 
Stingrays are also very popular in the state: they are cooked al pibil, in dobladas, in hamburgers and patties.
Many fruits, flowers, and leaves that grow in the region are consumed in the state, such as cabuches, chimbombo, chochas (flor de izote), jacobo, jaltomate, ojite, date palm, pulul, and mucoque. You can also find many regional stews based on meat and other ingredients such as Marinated pork and chicken, Rast pork, Baked kid, Chorizo ​​en masita, Rabbit in red chili, Beef cortadillo, Chilaquiles, Red and tulteca enchiladas, Charro beans, Chicken in chile ancho sauce, Butter gorditas, Machaca, Menudo, Migada, Mucoque with chorizo ​​and egg, Panzaje, and Venison salpicón —no longer cooked as it is an endangered species.