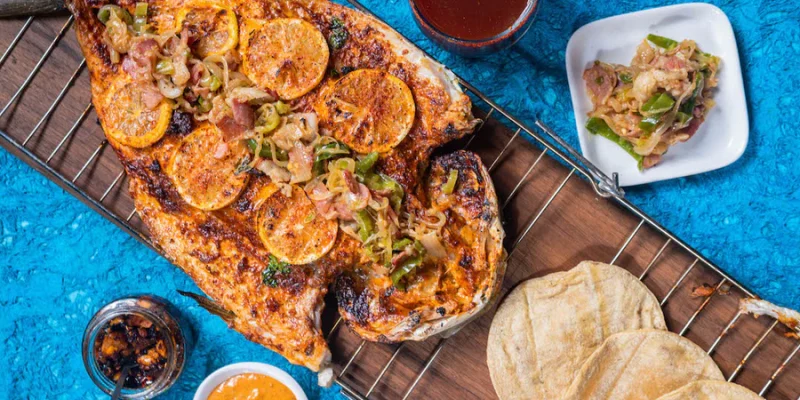 Let's keep with this series dedicated to exalting Mexican culinary traditions and their relevance as a cultural intangible heritage for humanity.
Revisiting the history of gastronomy, in every part of the planet —and just after leaving behind their strictly nutritional role— meals have evolved into a fundamentally social activity: an occasion to celebrate the bounty of the land, exalt cooking methods, and preserve traditions.
Such is the case in Mexico, where gastronomy contributes to our identity, as a group and as individuals, and social gatherings are always garnished with traditional dishes. It is undeniable that the influence received by the ancient Mesoamerican culinary traditions and by the extensive knowledge brought to the Iberian Peninsula by the Moors and the Asian condiments brought by the Nao galleons from China —as well as ingredients from Spain's own cuisine— have shaped Mexican gastronomy, but it is also true that the generosity of nature and the rich cultural traditions of ancient original people have led to a high level of gastronomic development, recognized worldwide.
In this new chapter, we will go through the most iconic dishes of the Pacific Coast, comprising the states of Aguascalientes, Durango, Jalisco, Nayarit, Sinaloa, and Zacatecas.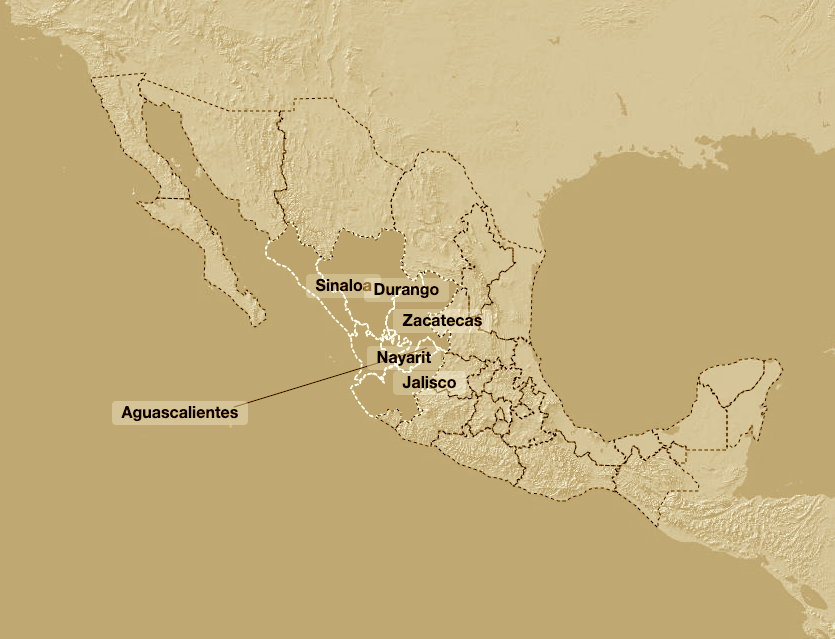 ---
Highlights
Agave, coffee, caporno or galactodendron, juniper, guamúchil, guava, mango, melon, nopal, banana, and grape are among the main plants and fruits used. Meats usually come from armadillos, shrimps, quails, hares, ducks, and, before species preservation regulations, turtles.
---
Aguascalientes
Aguascalientes shares many regional dishes with Jalisco, as it was formerly part of this state, like Birria, Pozole, milk candies, Menudo tripe stew and Barbacoa. Among the most popular food you can find Asados or roasts, Pork carnitas, Three-meat stew, Pork cueritos baked rinds, Stuffed chiles, Red and green enchiladas, Gorditas and Tacos mineros. It is common to find restaurants that garnish chicken or pork dishes with grapes and vine leaves. One of the most traditional dishes is the San Marcos Chicken, served mainly during the famous Feria de San Marcos fair.
Sweets, desserts and traditional drinks are capirotada, Charamuscas, Fruta de horno or oven fruit cookies, Jericalla flan, Marquesote, piloncillo or sugar cane Trompadas, maize powder pinole atole, pitahaya liquor colonche, maize tesgüino, and uvate grape candy.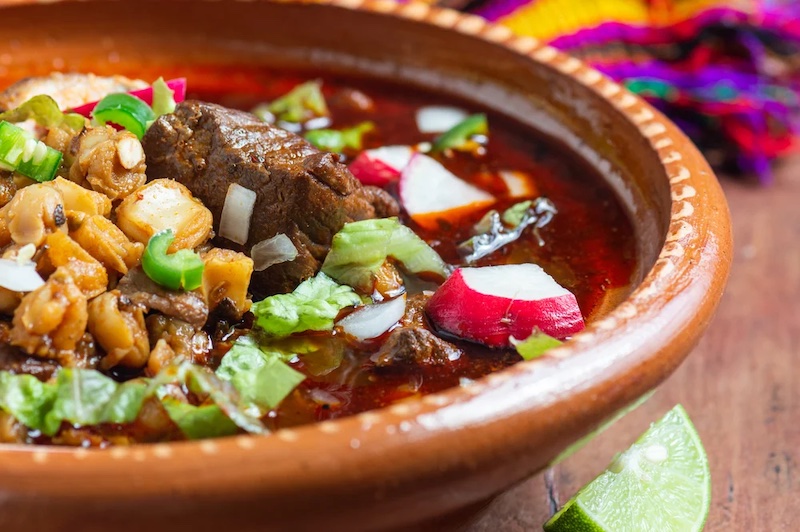 Durango
The first settlers of the region were semi-nomadic Huichols, Coras, Tepehuanes and Tarahumaras, among other groups, that used to hunt and gather nopales, organ pipe cacti, mesquite and some herbs.
Having extreme climates, people in Durango soon began to dry foods only harvested annually. Chiles, dried meat, chorizo, dried maize chuales soup and pinole, and bittersweet pickle Santa Fe Grande chilies or tornachiles. The agricultural activity produces tobacco, corn, chili, beans, squash, pomegranates, quinces, peaches, apricots, and apples. Pigs, cattle and sheep are also raised—the state has become the second largest producer of goat milk in the country and third in production of bovine milk. Some of Durnago's typical preparations are shared with neighbor states, such as Venison meatballs, Flank steaks, Red rice, Wedding roast, Roast pork and Roast venison, Cabeza de res a la olla (beef head cooked in a pot), Grilled or baked kid, Caldillo Duranguense beef soup, Machaca soup, Pork caldillo soup, Casseroles, Died chile pasado stew, Kid Fritada stew, Menudo and the inevitable chorizo. Other specialties include Gallina borracha 'drunken' hen stew prepared with vegetables and white wine, Broad beans in green sauce, Fried black bass, 'Drunken' pork loin with pulque, Patoles made with haricots, chorizo and tornachiles, Fish in tomato, Red chile tamales, Casserole with mole. Different types of cheese are used in the state to complement dishes and appetizers.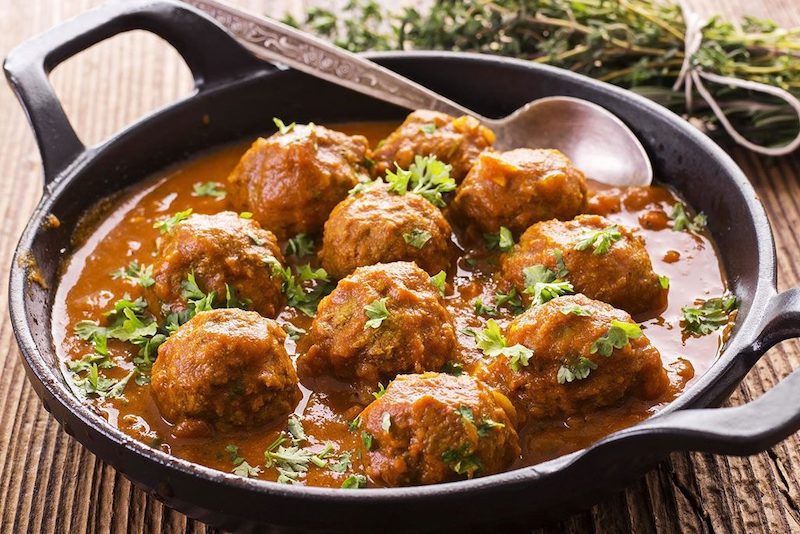 Jalisco
Jalisco culinary arts are highlighted by the cultivation of agave, corn, raspberry, sugar cane, tomato and watermelon; It is the first national producer of eggs and bovine milk; Its main fishing activity is carried out in Lake Chapala and on the coast, where charal, red snapper and snapper are mainly caught. The most representative indigenous groups are the Nahuas, who live in the south of the state, and the Huicholes, located in the Sierra Madre Occidental in the north of the state. The productive activities of the Huichols are basically for self-consumption. Their main crops: corn, squash, amaranth, beans and chili; they catch catfish and cauques; they hunt squirrels, iguanas, wild boars, and for rituals the white-tailed deer; to supplement their diet they collect mushrooms, roots, fruits and insects.
The state is known as the land of tequila, pozole and birria, but gastronomy in Jalisco is as vast as its territory (30,347 sq mi) boasting special dishes that are used both for special dates and for everyday food, including Pork adobo, Amilote white-meat fish, Catfish and carp fish roe —considered Chapala caviar—, Mazamitla's typical dish Bote or 'boat' meat stew, and its fish and shellfish variant 'River boat', Aztec pudding, Meat with chile, Meat in pulque, Pork with purslane, Camita con chile ('bed' meat with red chile), Cuachala chicken soup with tomato and maize dough, Chilayo pork and guajillo chile soup, Ixucari Huichol maize and tomato soup, Bathed suckling pig sandwich, the variant of Torta ahogada or bathed sandwich made with pork leg, Pork loin, Manchamanteles stew, Morisqueta rice, Guadalupanas or pacholas meat patties, Menudo, Minguichi soup made with jocoque, poblano chili strips, and corn, Weathered fish, Pipián, Chicken in cuñete stew—cooked with rasins, almonds,onion garlic, carrots and potatoes, Enjococado chicken with jocoque and tomato, Pozolillo green pozole, Green mole, Revoltijo nopal pad stew, and one of the most iconic dishes prepared for special occasions, Mole de arroz, or rice mole prepared with pork, on a chili and tomato, chocolate and herbs, thickened with rice, original from Lagos de Moreno.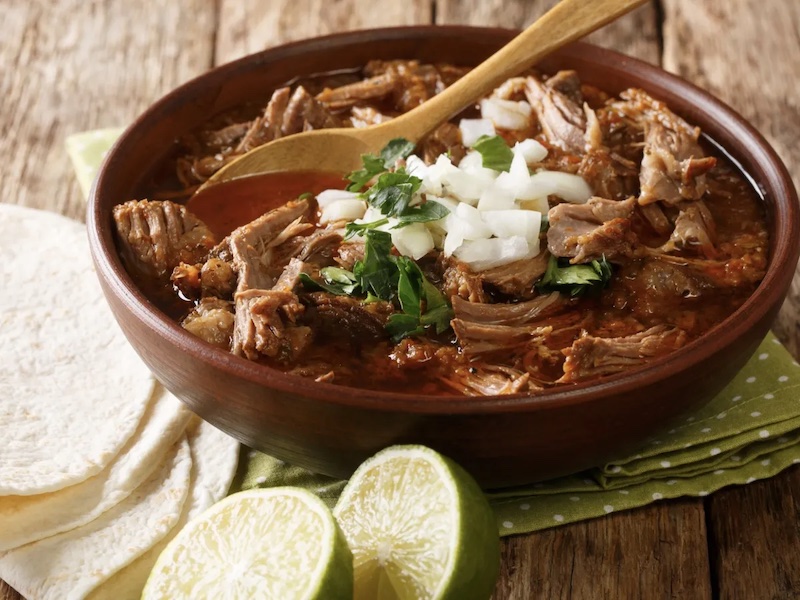 Nayarit
The state is the first producer of tobacco and jicama, it occupies the first places in the production of avocado and mango and in the capture of oysters and flathead grey mullet.
The original Cora, Huichol, Tepehuano and Mexicanero groups that inhabit the state share territory in the northeastern portion. It is common for these groups to temporarily migrate to the coast to work cutting tobacco and cane or picking corn. Most of the Coras settle in hot land, where they practice agriculture and livestock; In addition to basing their diet on corn, beans, squash, and chili, they complement it with yellow plum, papaya, mango, avocado, peanuts, pitaya, guaje, nopal, and mesquite pods; they also raise cattle, sheep, goats, pigs, bees, chickens and turkeys and consume some wild animals such as chachalaca birds, rabbit and wild boar.
Dishes throughout the state include fish and shellfish specialties, which can be found prepared in garlic sauce, deviled, roasted, fried or pickled; among them you can find Chicharrón de pescado fish rinds, Tatemado and Zarandeado fish, and Marlin toast. The oysters, which can be very large, are mainly eaten raw, in Chivichangas, sopes and broths. Shrimps are also very abundant, accompanied with with rice, cooked in broths, ceviches, empanadas, pozole, quesadillas, and tamales. On the island of Mexcaltitán, seafood is always present in dishes like mullet, shrimp meatballs and Taxtihuili shimp-based soup thickened with maize dough. In the city of Tepic there are countless fish and seafood restaurants for all budgets, where generous portions are served on large oval platters for sharing. In addition to seafood, in Nayarit there are different regional dishes such as Roast beef, Birria, Plantain buns, Pork beans, Flour tortillas, Raspadas corn toasts, Sopes, cylindrical tamales prepared with red sauce, ash, corn, pineapple and Nayarit-style pork.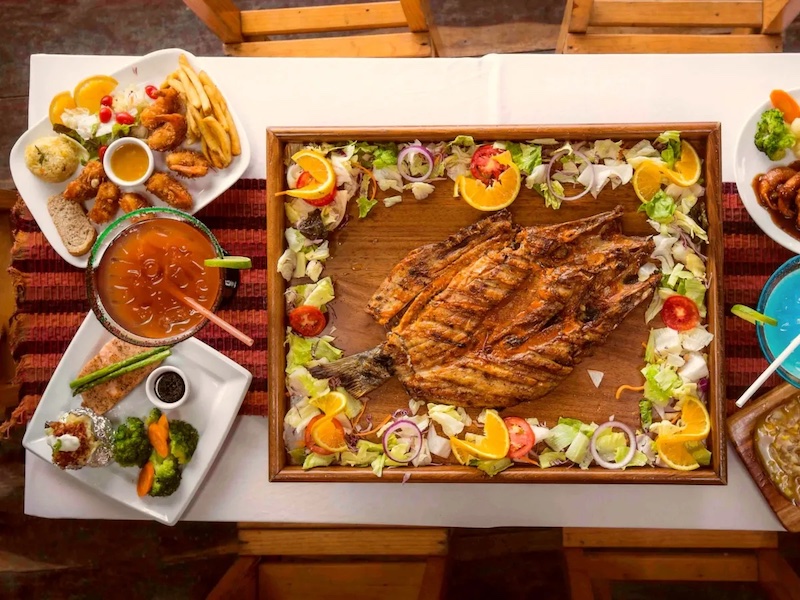 Sinaloa
Before the Conquest era, the territory was inhabited by different ethnic groups, but nowadays only the Mayos inhabit the north of the state and in many cases they share their territory with mestizos, influencing their food customs and the use of certain ingredients.
It is not surprising that Sinaloan cuisine is very varied and rich in preparations based on fish and shellfish: shrimp of all sizes are prepared A la diabla, Mojo de ajo, smoked, in cocktails, in pickles and in empanadas. Some specialties such as Aguachile or Shrimp ceviche, Shrimp meatballs, Stuffed shrimp and Shrimp tamales are part of their vast gastronomy. A large amount of fried fish is eaten in garlic sauce, and especially zarandeado fish. Beachside restaurants offer Chivichangas and Oyster pickles, as well as pickles of various fish and shellfish. Strolling the streets of Sinaloa you may find seafood carts selling cocktails, ceviches, shrimp or fish machaca and bass callus. In the central municipalities there are many traditional stews that they share with neighboring entities, for example Burritos, Machaca and venison stews, Chilorio, Chorizo, Pork beans, Menudo, Grilled chicken and pork tamales. At night, in the picnic areas and 'cenadurias' evening diners offer Placero barbecue and Del suelo 'ground' enchiladas, as well as pozoles, quesadillas and fried tacos dorados.
Among other representative preparations we find Rice with chickpea quelite, Mazatlan roast, Stuffed baizano, Biche or guashó with beans, Bear broth, Casseroles, Armadillo rinds, Armadillo chilorio, Chuina, Venison stew, Colache, Sinaloan rabbit, Cuchubaqui, Cuichi in broth, Badger stew, Ostrich hamburger, Snake machaca, Marinated raccoon, Orrura, Pigeon in pipián de guaje, Stuffed pigeons, Stuffed duck in the oven, Rabbit mincemeat, Wild boar pozole, Grilled and weathered bullfrog, Shreded rabbit salpicón, Seafood soup, Cuburi and flour tortillas, Red chile badger, Testihuil, Yorique bitter opossum.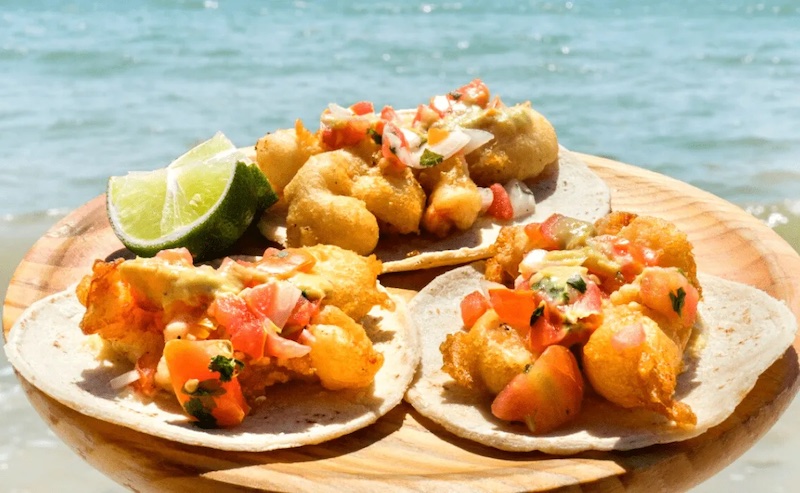 Zacatecas
The city of Zacatecas, capital of the state, was founded when rich mineral deposits were discovered. nowadays it is the first extractor of silver, zinc and lead. Another very important activity is agriculture, with main produce of beans, dried chili and oats. It occupies the first places in the national production of carrots, tuna, peach, grapes, tomato and guava. Some of the typical preparations of Zacatecan cuisine are shared with its neighboring states, for example Pork marinade, Wedding roast, Barbecue, Birria, Chorizo, Three-meat stew, Cold cuts, Menudo, Picadillo, Pico de Gallo sauce, Pipián, Pozole and Tapado chicken stew.
Traditional dishes include Kid baked, with chili, stewed and fried, Stuffed zucchini, Gambusino ram, Chanfaina, Pork, Beef and Vieja chicharrones rinds, Stuffed chili peppers, Ventilla chili peppers, Chinchulines, Condoches, Rabbit in yellow sauce, pipián, pulque or red sauce, Red and Zacatecan enchiladas, Corn gorditas, Figadete appetizer made with pork rinds and pickled chili, Beef liver, Beef tongue, Pacholas meat patties, Crazy potatoes, a variety of sauces made of ancho chile, red and Mexican, Red and Mining tacos, poblano chile stipes Rajas and Zacatecan tamales and Tatemado stew.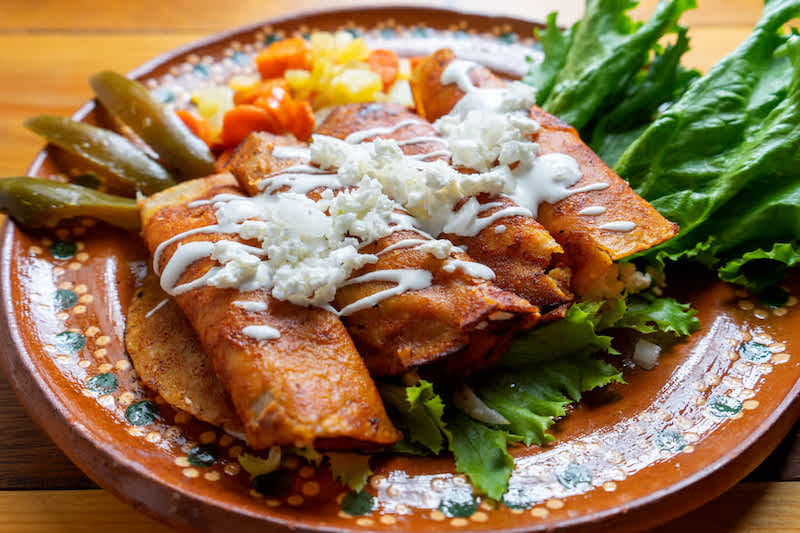 ---
Hope you have enjoyed this tour through the Pacific coast cuisine. Until the next chapter!