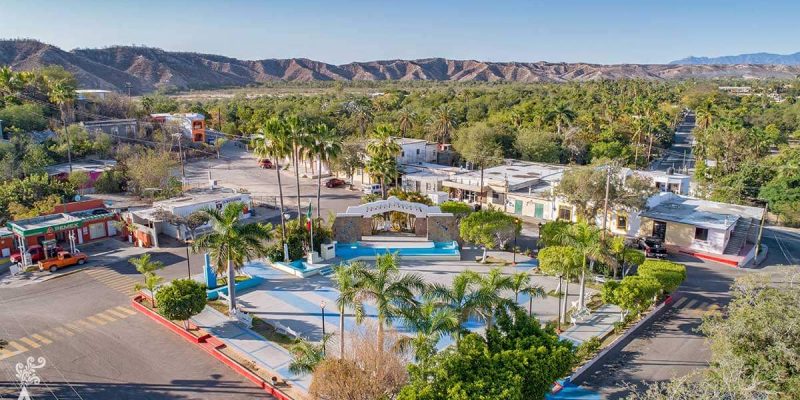 Founded under the name of Misión de Santiago el Apóstol in 1723, Santiago is located about 35 miles from San José del Cabo in Baja California Sur, right at the Tropic of Cancer. As soon as you enter this town you will feast your eyes on majestic palm trees —an important source for making palapa roofs throughout the region— that surround colorful agriculture farms and fruit orchards, mainly mangoes, the symbol of this community and which quality is simply extraordinary. Traditional subsistence farming has given way to organic produce farms supplying restaurants, hotels and markets.
Apart from agriculture, this town is home to talented artisans that excel at leather products and carpentry, and offer their products to visitors, including jam, pastries, honey, machaca, fresh cheese, chorizo, homemade bread and pinole, a roasted ground maize mix combined with spices like cocoa, agave, cinnamon and vanilla used as a nutrient-dense ingredient to make cereals, baked goods, tortillas, and beverages.
---
Just for fun: There is a popular saying in Mexico that says "No se puede chiflar y comer pinole al mismo tiempo" or You can't whistle and eat pinole at the same time, alluding to the fact that it is not possible to do two things at the same time.
---
Downtown
Life goes easy in Santiago. Centered around a quaint town plaza shaded by centenary trees, and colonial buildings, time seems to stand still in this sleepy town, with cowboys riding their horses and cattle sharing the roads in this peaceful farming community.
After strolling around the beautiful Centro, you can enjoy lunch in the gardens of the Restaurant and Hotel Palomar in Santiago.  
---
Did you know?
Right at the foothills of Sierra de la Laguna between Buanventura and Santiago, lies Hospital El Carrizalito, one of the first hospitals to attend patients with Tuberculosis in Mexico —23% of Baja Californians had this desease—, during the 40's, but before the construction was finished, it was abandoned. There is a rumor that says that the spirit of a girl appears on the hallways.
---
Encounter with Fossils
While visiting downtown, visit the museum exhibiting giant fossils and marine remains like shells of mollusks and bones of whales found in the high part of the mountain range, which shows that Millions of years ago this area was part of a great sea. The museum boasts an important collection of artifacts from the colonial era. Open Monday through Friday from 8:00 a.m. to 1:00 p.m., and admission is free.
To complete the visit, enjoy regional dishes in some restaurants by the picturesque plaza.
For adventurers: You can hire a tour guide to discover the fossil grounds where the remains of mastodons, giant sharks, and other creatures lay about the surface and in eroded sub-strata canyon sidewalls, and even when it is located on a private property, the owners will happily receive you with a small donation.
---
In touch with nature
Santiago is probably the town that best resembles the essence of inland character and beauty of Baja, with its stunning Laguna de Santiago and nearby natural hot springs, beautiful areas with water resources with high mineral content like Santa Rita, and El Chorro and Agua Caliente which takes its name from the thermal waters in that area, and plenty of outdoors things to do with activities like taking hiking trails along rushing waterfalls.
Finding the Santiago hot springs, or aguas termales and waterfalls can be a bit of an adventure, but finding the hot springs is half of the fun! Ask for help from the friendly locals and they will give exact directions or you can take a guided tour. The water in lower pools runs about 70ºF and is full of fish. The top pools can be 80ºF to 100ºF depending on the season you visit.
North of town up in the hills are the incredible Fox Canyon waterfalls where you can swim under falls pouring off granite cliffs. You can find more about this near attraction in the note: Baja California Sur: A New Experience in Every Corner | Miraflores.
---
Enjoy the trip and share your pictures using the hashtag #GSVE.
See you soon!