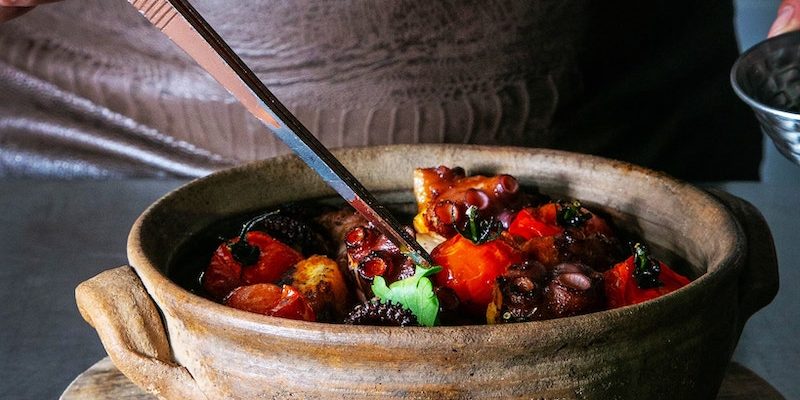 Culinary arts in Los Cabos have reached such a level of quality, that only a few places can bear the name of Mexico's Gastronomic Capitals.
Be welcome to explore the flavors and culinary proposals of 5 restaurants in Los Cabos, each of them celebrating the bounty of produce found in the region and beauty that surrounds Baja.
We hope you enjoy this selection as you discover more of the dining experience happening in the southernmost tip of Baja California Peninsula.
1. Pícaro Garden Cuisine
Overlooking the Pacific Ocean, Picaro is a display of casual, yet refined menu with a Mediterranean – Mexican twist, using only the high-quality local produce with traditional cooking methods.
The dual themes of wine tasting and farm-to-table cuisine run through their private cava dining room adjacent to the main dining area. The room features a long, wooden dining table that seats up to eight guests. Inside, diners are surrounded by tastefully displayed cases of wine in a temperature-control room. The wines at the cellar are some of the best in Baja and from around the world wine growing regions like California, France and Italy.
This is the kind of place where you could easily spend an entire afternoon or just stop by for a garden-inspired cocktail.
Most dishes have an element of a locally grown wood oven and are very earthy and comforting. The menu is always inventive, "a statement of knowing where your food comes from," says Chef Christian Ricci, which is why the day's options are simply a delicacy.
Address: Grand Solmar Rancho San Lucas, Highway to Todos Santos Km 120, Pacific Zone. Cabo San Lucas
picarogardencuisine.com
---
2. Acre Baja
This 25-acre property showcases an organic farm and a celebrated eatery set in the scenic foothills of the Sierra de la Laguna mountain range.
Executive Chef Diego Moles and Sous Chef Samuel Frayre are continuously seeking to create a playground of flavors with new additions to the menu, so the experience at this restaurant is sure to bring some pleased smiles to your face.
Acre's menu sources most of the produce from the in-house farm, and displays a global influence, so it is no rare to find fresh seafood and nourishing salads on your plate, alongside Italian pasta and French-inspired duck dishes.
After dinner, do not miss the eclectic cocktail collection, with a wide selection of concoctions served in a relaxed, effortlessly chic ambiance.
Address: Rincón de las Animas, Calle Camino Real S/N, Animas Bajas, La Playa, San José del Cabo
acrebaja.com/
---
3. Anica
The alluring essence around Anica starts with the origin of its name: from the Pericú indigenous language, this word means "community", conveying the sense of getting home at the moment one sets a foot on its elegant salon.
Here you'll find an exquisite variety of local, fresh ingredients that fuse to create Mexican traditional cuisine with a contemporary twist, applying the latest techniques together with ancestral wisdom. Anica takes advantage of Baja's nearby farms to blend with imported produce to create nothing but magic on every bite. And every dish is masterfully paired with a wide selection of fine wines, especially from the Baja California area.
Simplicity and elegance of natural, fresh dining combine to offer diners the opportunity to explore the pure essence of taste, Anica's main motto. A perfect place for guests, members and local visitors to celebrate life, love and friendship surrounded by spectacular views to the Pacific Ocean.
Address: Grand Solmar at Rancho San Lucas, Carretera a Todos Santos Km 120, Cabo San Lucas
grandsolmaratranchosanlucas.mx/en/dining
---
4. Romeo & Julieta Ristorante
Listed as one of the 10 Best Restaurants in Los Cabos by USA Today, Romeo & Julieta Ristorante is located in the heart of Cabo San Lucas. Being one of the most traditional restaurants in town, it offers Italian dining in an intimate setting, with a variety of meat and seafood dishes as well as delicious house-made desserts.
Old world Italian-style décor and cuisine are the hallmarks at this eatery, and set at the foot of the city's exclusive Pedregal neighborhood. Chef Matias Forte's menu covers a lot of ground, from antipasti and world-class Caesar salads – hand tossed tableside – to homemade pastas, chicken and veal dishes.
Fresh local seafood specialties are also available, and delicious pizzas made in a mesquite wood-fired oven. Romeo & Julieta has ample seating indoors and out, and can easily handle large groups.
Address: Boulevard Marina, Camino del Cerro, Centro, 23450 Cabo San Lucas
restaurantromeoyjulieta.com
---
5. Flora's Field Kitchen
Running under the farm-to-table concept, Flora's Field kitchen proposal revolves around handmade delicacies with freshest ingredients found, of course, in their fields.
The original restaurant opened in San Jose del Cabo, but after 5 years of successful operations in town, and having most of the products brought from the owner's farm, the decision was an easy one to make: the restaurant would move to the farm, sticking their menu to what they make, raise and grow.
Be ready to delight in the seasonal menu, with only the freshest products reaching your plate and your palate. There are some permanent classics such as the pizzas that come out from the wood-fired oven. All meats served at the restaurant are brought from the nearby 150-acre ranch where animals are humanely raised and fed on organic diets.
Address: Animas Bajas, San Jose del Cabo, Baja California Sur, Mx.
flora-farms.com
---
Your Concierge will be happy to help you with reservations and arrangements so you can enjoy the culinary experience taking place in Los Cabos when you visit your home away from home at Solmar Hotels & Resorts.
Bon appetite!
---